The ?1m trial was originally due to be heard in December but was postponed because Mr Amaral's lawyer was ill.
The McCanns' lawyer told the court that the couple are prepared to give evidence but only after Mr Amaral had done so.
In early legal discussion, the female judge agreed to ask for details of the police investigation to be made available to the McCanns.
No-one can be allowed to say that our daughter can't be found without very good evidence.
Gerry McCann
The first witness, who gave evidence by videoconference, was the lawyer in charge of the original inquiry into Madeleine's disappearance, Jose Magalhaes e Menezes.
The McCanns are sitting in the centre of the front row of seats to hear the proceedings. Interpreters are seated either side of them.
Mr Amaral is sitting on one of the benches at the side of the court, around five metres away from the McCanns.
Outside the court, police erected barriers at the entrance, expecting large numbers of onlookers and members of the media for the hearing, which may now last longer than its expected three days because a new witness - named as Luis Frois - is being called by the McCann team.
Mr Amaral was in charge of the investigation launched when Madeleine McCann disappeared shortly before her fourth birthday during a family holiday in Praia da Luz in May 2007.
He was taken off the case the following October after criticising British police in a newspaper interview.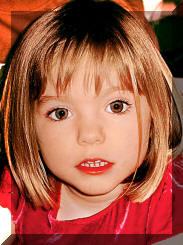 Madeleine: Vanished in holiday resort
Mr and Mrs McCann were named by police as "arguidos", or suspects, but that status was lifted when the investigation was shelved in July 2008.
The same month, Mr Amaral published a book called Maddie: The Truth Of The Lie, in which he claimed the youngster died in her parents' apartment and called into question the McCanns' account that she had been abducted.
A Portuguese judge granted an injunction in September last year banning its further sale or publication. The former policeman was also prohibited from repeating his claims.
Arriving in Lisbon, Mr McCann said: "We're just here to continue the search for Madeleine, and to protect our own family, and their human rights.
"No-one can be allowed to say that our daughter can't be found without very good evidence. That's what this court case is about."
Mrs McCann said: "We're looking for justice."
The couple, both 41, from Rothley, Leicestershire, have said that any damages awarded to them would go towards paying for private investigators to look for their daughter.