BRITISH police are to launch a new probe into missing Madeleine McCann after massive failures were found in the Portuguese investigation.
Our top child protection cop Jim Gamble has completed a fresh look at the three-year-old investigation for the Home Office.
He told ministers there were huge holes in the original inquiry that need to be revisited if they want to "come close" to reaching UK standards.
It will come as a bitter pill for Portuguese investigators who have fended off criticism since Maddie disappeared in 2007.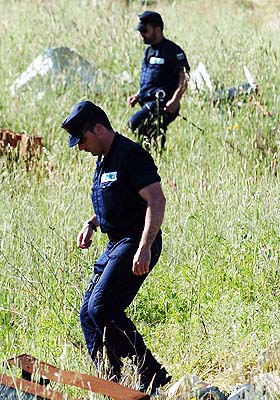 Portugese police left 'gaping' holes
But parents Kate and Gerry McCann, both 41 and both doctors, are "delighted" at the move.
Failures in the original investigation are said to be "so gaping" that British authorities feel it is their duty to look at it again.
This time police will review all the leads using technology and standards expected in a homicide or kidnap case in the UK.
Mr Gamble, head of the Child Exploitation and Online Protection Centre, found a basic failure to collate information and join up links that should have been made.
Telephone records were not properly analysed, missing early opportunities for leads.
And Kate and Gerry McCann were named as Arguidos, or formal suspects, by Portuguese police - something that the review says would not have happened if the probe had been carried out in the UK.
Mr Gamble found no evidence sufficient to make them suspects. His findings have now been formally submitted to the Home Office with recommendations to re-investigate.
The damning review has now set the Association of Chief Police Officers the difficult task of trying to decide who takes on the mammoth task. It is already predicted to be "an extremely costly" investigation that, even if done properly, will probably never be solved.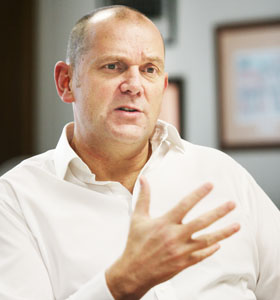 Damning: Jim Gamble
A source said: "It is something that has to be reviewed. It is only right that the McCanns are given the satisfaction that everything that could be done has been done. It now comes down to who is up to the job."
The Home Secretary Alan Johnson is expected to announce that the new probe will NOT be carried out by Leicestershire police, the McCanns' local force. The review has highlighted failures within their handling of the case and ruled them out of the review.
Instead ACPO are now asking around their top cops to see who could take on the very difficult and complex investigation.
The source added: "It will be extremely costly and sadly is unlikely to result in a positive outcome.
"As much as we would all like this to end with good news for the McCanns, the fact is there have been a lot of missed opportunities and no-one will ever be able to reclaim the time and evidence lost."
Two thousand pages of evidence released earlier claimed Portuguese detectives failed to follow up leads.
Home Secretary Alan Johnson ordered officials to examine the "feasibility" of British detectives having a fresh look at all the evidence back in March.
Kate and Gerry McCann, of Rothley, met Mr Johnson to plead for help in their search for their daughter who vanished aged three from a holiday apartment in
Praia da Luz, Portugal.
GOT a story for the News of the World? Email newsdesk@notw.co.uk or call 020 7782 1001