Madeleine McCann's mother yesterday admitted she 'had to face up to the fact' that her missing daughter may never be found.

The 42-year-old spoke out as she and her husband Gerry revealed that their appeal fund will run dry by early 2012.

Kate McCann said: 'When the money runs out we will not be able to pay the investigators helping us to find Madeleine, It will be just me and Gerry left looking for her. I just can't contemplate that.'

She added: 'I have to face the fact that we may never find her.' But she added: 'If no one apart from us is looking, then so be it.'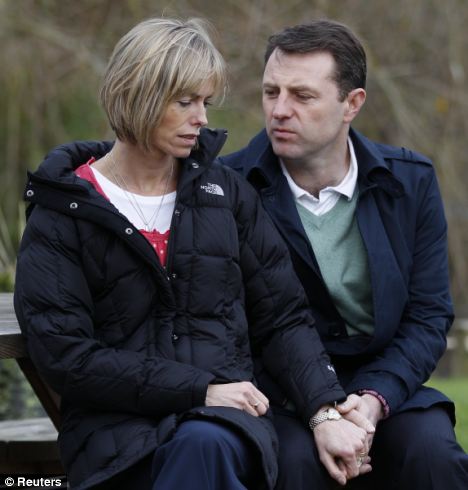 Tireless: Kate and Gerry McCann, pictured yesterday, have warned the fund to find their missing daughter will run out of money
Mr McCann told the Sun: 'No parent would ever give up on their child. And we won't. As a parent you can't.'

Within weeks of Maddie being snatched from a holiday apartment in Praia da Luz. Portugal, in May 2007 money from the public poured in to boost the Find Madeleine Fund. At its height it stood at £2 million. But now there is just £300,000 left.

Mrs McCann also accused the Government of giving up the hunt for the child, who went missing shortly before her fourth birthday.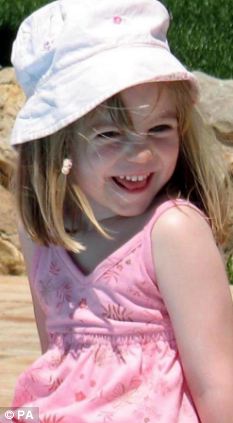 Huge effort: Madeleine McCann went missing in May 2007
She said a series of ministers had shrugged off her pleas for help. 'I don't want to be appeased, and that's what I feel we're getting. We need action, I don't need fluffy worthless words,' she said.The couple have written an open letter begging for political and financial help and launched an online petition to lobby the British and Portuguese governments for a formal review of the case.

Portuguese police shelved an 18-month investigation into the disappearance after clearing her parents as formal suspects, and the case has remained closed.

Mr and Mrs McCann, of Rothley, Leicestershire, have met a series of ministers in the hope that the case will be re-opened or a cold-case review of the investigation launched.
Their hopes were raised when the Labour government looked at the feasibility of an Interpol review of the disappearance.

But when they met Home Secretary Theresa May in August, they learned the new Home Secretary had not read the report.

A Home Office spokesman said: 'The Home Secretary has met Kate and Gerry McCann and is deeply sympathetic to their situation.

'The Government wants to ensure that everything feasible is being done to progress the search for Madeleine.

'The British authorities will maintain a dialogue with the Portuguese and continue to liaise with Madeleine's family on any developments.'

Madeleine vanished from her parents' rented holiday apartment just days before her fourth birthday, while the McCanns dined with friends at a nearby restaurant.

She would now be seven, and her parents have released a series of artists' impressions, showing how she might look now.

Mrs McCann said Madeleine's twin brother and sister, Sean and Amelie, still asked for their older sister, and had now learned to write her name.

She said: 'We're doing OK, we make the best of it. Life is not normal, I guess it's a new kind of normal... It doesn't mean the pain is any less.

'We can't stop, it doesn't matter how tired you are, we're on this treadmill and we can't stop trying to find Madeleine, or at the very least find out what's happened.