The purpose of this site is for information and a record of Gerry McCann's Blog Archives. As most people will appreciate GM deleted all past blogs from the official website. Hopefully this Archive will be helpful to anyone who is interested in Justice for Madeleine Beth McCann. Many Thanks, Pamalam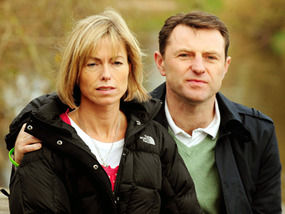 Kate and Gerry McCann have welcomed the offer of a new search for Madeleine

DETECTIVES working on the Madeleine McCann case say they are ready to reopen the investigation into her disappearance.

Portuguese police have indicated they would be happy to work with the missing girl's parents and their friends.

The gesture will come as a huge boost to Kate and Gerry McCann, who last week launched a petition and urged Home Secretary Theresa May to request a review of the case.

A senior police source in Portugal said: "Detectives are committed to resolving this case and would work on any review and pursue any line of inquiry suggested."

As the McCanns launched a petition last week, a frustrated Gerry said: "For the past three and a half years, the authorities have not being doing anything proactive to help Madeleine. I don't think it's right that the onus should fall on us. The authorities really should be doing more."

'We don't know how long this will go on, but it's our life. The pain just makes us stronger'

Kate added: "We need action. I don't need fluffy, worthless words. We need somebody to do something."

Almost 26,000 people had yesterday signed the online appeal for the Government to do more to find Madeleine.

Family spokesman Clarence Mitchell said: "Kate and Gerry are thrilled with the number of people who have supported them. It shows them there is still a huge amount of public opinion behind them."

The couple, doctors from Rothley, Leicestershire, are due to fly to Lisbon on Tuesday to consult their lawyers.

Legal sources in Portugal say they should use their visit to ask their lawyer to formally write a letter to the Policia Judiciaria and to the Portuguese attorney-general's office.
If a review was ordered, the Policia Judiciaria would suggest that there should be reconstructions of two key incidents on the evening of May 3, 2007, in Praia da Luz on the Algarve.

The McCanns' friend Jane Tanner said she saw a man holding a child she believed to be Madeleine. Irishman Martin Smith said that the same evening he saw a man with a child in his arms walking to the beach.

Last year, a documentary prepared with the McCanns' investigator, former British police officer Dave Edgar, highlighted those sightings.

A well-placed source in Portugal said: "Mr Edgar clearly recognises the importance of these two incidents. We had hoped to do full filmed reconstructions but that did not take place but we would be happy to try again to get that vital work done."

He said that both Kate and Gerry McCann and their holiday friends, David and Fiona Payne, Diana Webster, Rachel and Matthew Oldfield, Jane Tanner and her partner Russell O'Brien, would be treated with great sensitivity in any reconstruction.

Last week Kate, 42, said she was "disappointed" over the Home Secretary's failure to help find her daughter, saying: "There is an abductor out there who is free to take another child. Other children are at risk and nothing is being done."

She added: "We don't know how long this will go on for but it is our life. You get stronger handling the pain."

The Portuguese police source said: "Every time we get information sent to us we look into it. Nothing is ignored.

"The frustration is that there has not been a strong lead for a long time."

A McCanns' spokesman said: "We would welcome any indication of support from the PJ. However, we would be hoping to have an official response to our call for a review of evidence."

Sunday Express readers can sign the McCanns' petition at ipetitions.com/petition/madeleinemccann_case_review/.