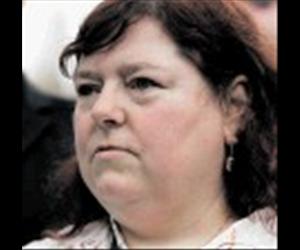 Philomena McCann: support
Missing Madeleine book is 'truthful and scathing'
An aunt of missing youngster Madeleine McCann has described a new book about her disappearance as "truthful and scathing".

The girl's parents, Gerry and Kate, have secured a multimillion-pound deal to write an account of their search for their daughter, who vanished from a holiday apartment in Portugal in 2007.

Money raised by sales of the book, entitled Madeleine, will be used to pay for their ongoing hunt for the child, who was aged four when she disappeared.

The couple, who are both 42 and have five-year-old twins Amelie and Sean, revealed recently that their search fund was dwindling.
Mr McCann's older sister Philomena McCann, 46, who lives at Ullapool in Wester Ross and is head of social subjects at the local high school, said Kate had finished writing and the book was being edited.

Ms McCann said: "Kate is mainly doing it and I know she has written some very truthful and scathing things relating to the Portuguese police.

"When Madeleine went missing we thought it would be really important for Kate to keep a detailed journal and she felt it was important to keep an account of everything and some of it has been used for the book.

"I don't know if I will be able to read it myself. I have been thinking about it but I think I may find it too upsetting.
"Kate and Gerry feel a real responsibility that they don't want to continue asking the public to support them, and that support has allowed them to go on.
"They think about what they can do to help themselves and they came up with this idea."
The book will be published on April 28, 2011 – to coincide with the fourth anniversary of Madeleine's disappearance from the Praia da Luz resort.
Ms McCann said the family, who live in Rothley in Leicestershire, were regular visitors to the Highlands and "loved" travelling north with their children.

She added: "They will be spending Christmas at home, but we will meet up with them at my mum's after Christmas. Amelie and Sean are amazing, most of the time the family just get on with things as much as they can but sometimes they just can't."
On their website dedicated to Madeleine – www. findmadeleine.com – Mrs McCann says: "There are several different reasons as to why I finally came to the decision with my husband Gerry to write and publish a book. My reason for writing is simple; to give an account of the truth.
"Publishing this book has been a very difficult decision and is one that we have taken after much deliberation and with a very heavy heart.

"Every penny we raise through its sales will be spent on our search for Madeleine. Nothing is more important to us than finding our little girl.

"We are hopeful that this book may help the investigation to find Madeleine in other ways too. Our hope is that it may prompt those who have relevant information, knowingly or not, to come forward and share it with our team