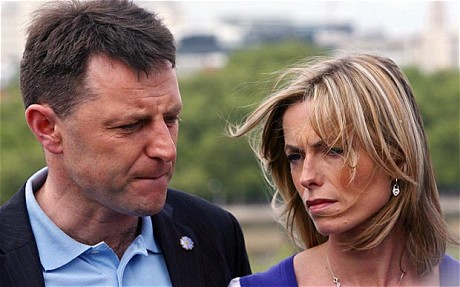 Photo: PA
Four years on, they still say prayers for Madeleine McCann in Praia da Luz. Each week, the church in the centre of the Algarve resort makes the same plaintive plea for "Madeleine and all missing children and their families".

Kate McCann, the girl's mother, is sometimes there to hear them. She has made a series of secret trips back to the village, staying with the local Anglican priest and his wife. Shunning the limelight, she goes alone, leaving behind her husband Gerry and their twins, toddlers at the time of Madeleine's disappearance but now old enough to be at school. The public has never been told until now of these solo trips.
But next month, Kate will find herself where she doesn't really want to be – back in the full glare of the public spotlight. Her book, entitled simply Madeleine, is published on May 12 – the date of Madeleine's eighth birthday. She was just three when she went missing.

The McCanns hope the book, published with help and guidance from JK Rowling, will re-invigorate the search for Madeleine.
While Gerry McCann has been back at work for more than three years, resuming his career as a heart consultant, Kate has shown no inclination to return to her day job as a GP
Her life, instead, is devoted to the children, looking after two and trying to find the other. And, for the past six months, she has been writing.
Her book is expected to raise about £1 million for the fund established four years ago to find Madeleine. The money should be enough to pay for private detectives to keep hunting for another two years, the fund having dwindled to £200,000.
Its publication will coincide with a media blitz that will include television interviews in the US, the UK and Portugal. Kate hates being the centre of attention but knows she has to go through with it.

"My reason for writing is simple: to give an account of the truth," she says. "Publishing this book has been a very difficult decision and is one that we have taken after much deliberation and with a very heavy heart.
"However, with the depletion of Madeleine's Fund, the decision has been taken out of our hands. Every penny we raise through its sales will be spent on our search for Madeleine. Nothing is more important to us than finding our little girl."
Close friends say there is nothing this deeply private woman would like more than to avoid the limelight.
Kate has made at least two secret trips to Praia da Luz in the past 12 months. She stayed with Haynes Hubbard, the Anglican priest in the village, and his wife, Susan, who is now a close friend.
"Look at her face when you see the television and newspaper pictures," says Father Hubbard. "She doesn't enjoy being in front of the camera but she is prepared to do it because it might bring her child back.
"They need money to carry on the investigation. They will never stop looking and that's why this book has been written. It probably tears them apart to do this but the child is worth it."
Another close friend says: "She gets strength from being in the area where Madeleine went missing. I don't get the impression it is some kind of pilgrimage. It is not like she stands outside the apartment in tears."
Kate has spent the past six months – when not caring for her two other children Sean and Amelie – shut away in her study writing Madeleine. She has had help from the highest authorities. JK Rowling, author of the Harry Potter series and a supporter of the fund, has helped, including introducing Kate to her agent, Christopher Little.
The book has been painstakingly produced. Kate has spoken widely to friends and family to make sure her recollection of events is precise. Emma Loach, the daughter of the film-maker Ken Loach, has also become a close friend and adviser. She has made two television documentaries about the McCanns, and is a regular visitor to the McCanns' home in Rothley in Leicestershire.
There has also been input from the Tapas Seven, the group of friends on holiday with the McCanns when Madeleine was abducted on the evening of May 3, 2007. They were dining with the McCanns when Madeleine vanished and have stayed loyal throughout.

The libel law firm Carter Ruck has been through the manuscript. Friends and acquaintances suggest that Kate will "want to settle scores" – particularly with the Portuguese police, who investigated the disappearance and became convinced, wrongly, the child's parents were involved.
"She does not forgive what they put her through," says one friend. "Kate is a strong woman and she knows what is right and what is wrong."
After they were made arguidos – or suspects – back in September 2007 the McCanns finally left Portugal and returned to Rothley. Their arguido status was lifted about a year later. The only other person named arguido – a local man, Robert Murat – was also exonerated by the police at the same time.
Gerry returned to his job at a Leicestershire teaching hospital a little over a month later. Though supremely hard-working, he is, of course, still deeply committed to finding his daughter and active in overseeing the fund.

"Gerry is very much the bread-winner while Kate, when not looking after the twins, spends most of her day on the campaign side," says a close friend, adding: "The book has taken up all her time. It is a cathartic exercise."
The couple remain close. Kate is the more devout, attending mass at her local church most Sundays, with their twins, now aged six. Gerry attends, too, if he is not working.
"She hasn't given up hope," says the local priest, Father Keith Tomlinson. "Obviously life has been so, so hard but she is a strong character."
The village has been protective and Kate feels comfortable in and around the area. "She doesn't like going to London," says a friend. "They get stared at out of ghoulish curiosity and she finds that very uncomfortable. They are famous for all the wrong reasons."
The pair are both early risers and fitness fanatics. Gerry often cycles the five miles to work while Kate, who was often photographed in Praia da Luz out jogging, remains a keen runner. Their new-build house, in a cul-de-sac, is described as "immaculate but lived in", the walls filled with photographs of the children. There are other poignant reminders of their missing daughter, such as a poster of handprints hanging in the lounge, which was made by school children in Praia da Luz and given to Kate and Gerry as a goodwill gesture.
Upstairs, Madeleine's bedroom has remained largely untouched. Occasionally birthday and Christmas presents sent to her are put there, unopened, awaiting her return. The bedroom is largely off limits to guests and Kate and Gerry have resisted all offers from the media to open it up for photographs and filming. "Don't get the idea the room is some kind of shrine to Madeleine," warns a family friend. "Kate and Gerry are sensitive about the bedroom. It is still Madeleine's room and it hasn't changed."
The hunt for Madeleine has been going on for four years now. The Portuguese police began the search but from the outside it felt half-hearted, quickly abandoned as detectives there grew convinced that, first, the little girl was dead and then, even worse, that the parents were somehow involved.
In desperation and using money raised by the public and through benefactors, the McCanns hired one set of detectives after another. Privately there is an admission the money has not always been wisely spent, though the couple are happy with the team in place now.
One detective agency, based in Spain, promised to have Madeleine back by Christmas – that was in 2007 – while another, Kevin Halligan, was arrested – after being awarded a £500,000 contract to find Madeleine – for widespread fraud. The new operation is said to be more professional but hamstrung by a lack of resources and without the weight of the local police behind it. Sources say there are no obvious leads currently, though surveillance operations are mounted from time to time in Portugal and beyond.
The book may be one last push to find the girl. Kate and Gerry take heart from stories every now and then of missing children who suddenly turn up alive – such as Jaycee Dugard in the US and Natascha Kampusch in Austria.
"We are hopeful that this book may help the investigation to find Madeleine," says Gerry. "Our hope is that it may prompt those who have relevant information to come forward and share it with our team.
"Somebody holds that key piece of the jigsaw."