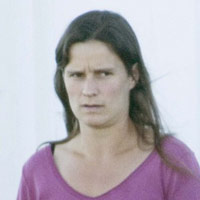 Jane Tanner (pic:nbpress)
EXCLUSIVE THE SEARCH FOR MADELEINE DAY 178 'It was 9.15pm and he looked a bit odd' 'But I never imagined girl was Maddie'
A friend of Kate and Gerry McCann has described for the first time the moment she believes she saw Madeleine being snatched.
Jane Tanner is haunted by the image of a man "striding urgently" away from the McCanns' apartment with a barefooted child slumped in his arms.
She admits thinking he "looked a bit odd" but says she never imagined the youngster he was carrying could be four-year-old Madeleine...until the alarm was raised 45 minutes later that she was missing. And by then it was too late.
Jane was dining with Kate and Gerry on the night Madeleine disappeared. She saw the man when she went to check on her own daughter. It was her description which led to an artist's impression of a man carrying a child released earlier this week. Jane, 36, told a friend: "I never in a million years would have imagined that it was Maddie being carried away.
"The first thing that raced into my head after finding out she was missing was this person I'd seen."
As Kate and Gerry began a frantic hunt for their daughter, horrified Jane twice told police about the dark-haired man she'd seen walking off carrying a child. The first time was at 11.15pm, then again at 3am. She was astonished that detectives failed to release the information to appeal for witnesses for another 22 days.
Jane and partner Russell O'Brien, also 36, from Exeter, Devon, were among seven friends who were holidaying with the McCanns in Praia da Luz. All nine were dining together at a tapas restaurant on the night Madeleine disappeared.

Gerry McCann had gone to check on Madeleine and her twin brother and sister at about 9.05pm. Ten minutes later, Jane left the tapas bar and was on her way back to her apartment to check on her own daughter when she saw the man heading away from the McCanns' apartment, down the hill.

Jane's friend said: "It was about 9.15pm when Jane saw the man. She said that although he looked a bit odd and the child he was carrying had bare feet on a cold night, she never in a million years thought it could have been Maddie. You see a lot of people taking children to and from a nearby creche around there.

"Jane also had just passed Gerry and another man, Jeremy Wilkins, talking in the street, so she assumed that Madeleine had just been checked on.
"Suddenly this man scoots across in front of her with the child, which she thinks is a bit strange because the child was in pyjamas and had no shoes or socks on. He wasn't running, he wasn't walking, but he was striding. It was like an urgent walk.
"Jane knows it was a child from the size of the person being carried. It was obviously a small child. There was no doubt in her mind. There have been reports the child was held in a blanket. But Jane says that is not true."

Jane arrived at her apartment, checked on her daughter and then returned to the tapas bar. Soon after, Jane says that another friend Matthew Oldfield, 37, and her partner Russell headed off to make their checks on the kids. But Jane's daughter had become ill and Matthew came back to fetch her.

On his way back - between 9.30pm and 9.45pm - he stopped and listened at the door of the McCanns' apartment but did not enter.
"Jane finished her meal and went up to the apartment straight away to see her daughter," the friend said. "Around 10 or 15 minutes later, Kate discovered that Madeleine was gone.
"Jane heard shouting outside and came out and saw Matthew's wife Rachel, who told her Maddie was missing.
"The first thing that came into Jane's head was this person she'd seen. She felt complete horror. Kate was screaming 'She's gone, she's gone' and there was a huge panic."
The local civilian police force arrived to carry out door-to-door inquiries, knocking on Jane's door at 11.15pm. "She told police about the man as soon as they arrived in her apartment," the friend said. "She also then told detectives during her interview with them in the early hours of the morning of May 4 and Gerry was present at that interview.

"Jane did feel that her sighting was taken seriously but it was frustrating that the police didn't realise a description of the man immediately."
The height of the man - aged around 35 with black hair, wearing a maroon shirt, camel-coloured trousers and black or brown shoes - was also miscalculated by cops when they converted feet into metres.
Jane says the person she saw was 5ft 9ins rather than 5ft 8ins as previously reported. She is also adamant the child was not wrapped in a blanket.
Jane will be asked to recount what she saw over the coming weeks when she and the other friends are re-interviewed by Portuguese police in the UK.
Last night it emerged that Kate and Gerry might have to wait a YEAR to see police files on them explaining why they are suspects.
Portuguese newspaper 24 Horas reported that prosecutors have applied to judge Pedro Frias to extend the deadline by giving the case "special complexity" status.
The paper said Madeleine's parents were told yesterday they might have to wait until August 2008 to see police papers outlining the case against them. They deny any involvement in her disappearance.

The paper said the request came because Portuguese police are still waiting for full DNA results from a UK lab and the chance to quiz the Tapas Nine - the McCanns and their holiday friends - on British soil. Yesterday it was also reported that detectives are still waiting for the couple's UK phone operators to send a list of their calls the night Madeleine disappeared.
An insider said: "Portuguese police say it is hampering their investigation. But you have to question why they've been so quick to jump on the McCanns when they've yet to see something as basic as their phone records."
Meanwhile Kate and Gerry are having panic buttons installed at home as police step down the round-the-clock vigil outside their house.
The couple have had a constant police guard since arriving back from Portugal seven weeks ago.

Heart specialist Gerry, 39, is returning to work on Thursday. He took twins Sean and Amelie to a park near his home in Rothley, Leics, yesterday.