KATE and Gerry McCann have faced a harrowing three-and-a-half year search for their young daughter Madeleine. And the couple have finally lost patience with the lack of progress made by the police, saying they have had enough of "fluffy, worthless words" and calling for a full case review into her disappearance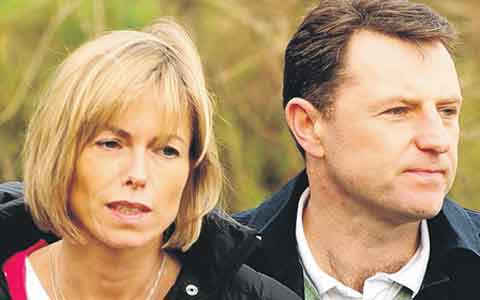 Kate and Gerry McCann want a full review of the case - and are appealing again for the public's help. Picture: PA
Madeleine has been missing since 3 May, 2007, when, aged three, she was taken as she slept alongside her younger twin brother and sister in Praia da Luz in the Algarve, Portugal. Her parents had been dining with friends at a nearby tapas bar within their holiday complex at the time.

The McCanns, both doctors, have never given up hope their daughter will be found. But yesterday they launched a petition to lobby the UK and Portuguese governments for a joint or independent review of the case, saying they wanted "action" and "somebody to do something".

Glasgow-born Mr McCann, said: "Essentially for the last three and a half years, the authorities have not been doing anything proactive to help Madeleine. That is despite our best efforts to encourage them to do so.

"I don't think it's right that the onus should fall on us - the authorities really should be doing more."

Mrs McCann said: "I don't want to be appeased, and that's what I feel we're getting at the moment.

"We need action. I don't need fluffy, worthless words. We need somebody to do something.

"Madeleine is still missing, she's a little girl, her abductor is still out there, so by not carrying on, we are putting other children at risk. I think more needs to be done."

The McCanns, from Rothley, Leicestershire, have met former home secretaries Alan Johnson and Jacqui Smith, as well as current Home Secretary Theresa May, to discuss the issue and to ask for a review of the case.

Mr Johnson commissioned a "scoping exercise" by the Child Exploitation and Online Protection Centre to see if a review would be helpful. Mrs McCann said when they met him, they felt they were making progress, but now they did not even know if the report had been read.

"There has not been a formal case review and I think for such a serious case like this, and with the profile of it and international aspects, that should be carried out," Mr McCann said.
"The onus is on the UK and Portuguese authorities to sort that out.

"I think the best thing is for this case to be solved, and at the moment, the authorities are not doing anything proactive to try and do that."


Portuguese police launched a massive investigation with the support of British officers,
but the inquiry was formally shelved in July 2008 without reaching any firm conclusions about Madeleine's fate.

During the investigations, various theories were put forward, and there were claims Madeleine had died in the holiday flat and that her blood had been found in her parents' hired car.

Local resident Robert Murat was given "arguido" (suspect) status, as were the McCanns, and the couple underwent lengthy questioning by the authorities. All three were cleared of involvement in July 2008
Private detectives employed by the McCanns are continuing to investigate the case.

As well as the petition, the couple are appealing for continued financial support for the official Find Madeleine fund, due to run out in spring 2011.

Speaking about how the family was coping, Mrs McCann said: "(The twins] Sean and Amelie are great, they are doing really well, they seem to have taken everything on board and coped really well. Maybe that's one of the attractions of youth really."

She added: "We're doing okay, we make the best of it. Life is not normal - I guess it's a new kind of normal."